Return to Biotechnology Services
Biosecurity and DNA Synthesis
Craic has been closely involved in efforts to establish an effective way to screen sequences submitted to DNA synthesis companies for Select Agent sequences. Our BlackWatch software plays an important role in the screening of synthetic DNA orders for Select Agents at a number of companies.
Visit the BlackWatch Site for more Information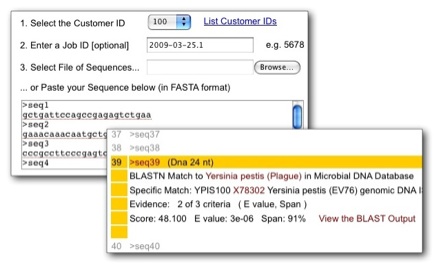 Developing Standards for Sequence Screening
Craic is actively involved in industry and government efforts to develop standards for sequence screening
A major study on Synthetic Genomics: Risks and Benefits for Science and Society was conducted in 2005 through 2007 by policy experts from the J. Craig Venter Institute, MIT and the CSIS, funded by the Sloan Foundation. Dr. Robert Jones contributed to that study and prepared a Background Paper on the use of Sequence Screening as a way to detect misuse of this technology.
Thanks to funding in 2006 from the Sloan Foundation, we have been working on ways to minimize false positive matches in screening. Work is underway on second-generation screening software, called Safeguard, that will implement this and other techniques and which will allow effective screening of short oligos.
As part of this effort, Craic has prepared a Technical Report on sequences that should be included in a database for screening.
This work is being undertaken with Markus Fischer of Entelechon and involves discussions with interested parties, especially the Industry Association Synthetic Biology.
In March 2012, Dr. Robert Jones took part in a meeting on Security Aspects of Synthetic Biology organized by the International Council for the Life Sciences in Heidelberg, Germany.
Currently, Craic has no external funding for this effort.
Links
Sequence Screening paper for Sloan Foundation study, 2005
Report of the International Council for the Life Sciences meeting, Heidelberg, DE, March 2012